Migration safaris, holidays & tours
Migration safaris, holidays & tours
Every year, millions of wildebeest and other plains game embark on a journey, mapped by instinct, that follows Africa's seasons in search of fertile land. This is the great Serengeti migration
Migration safaris, holidays & tours available in
Kenya, Tanzania
Custom designed Migration safaris in Africa
Describe your dream trip
We'll put together the best value for you
Book when you're ready
Help Me Plan
Every year, millions of wildebeest and other plains game embark on a journey, mapped by instinct, that follows Africa's seasons in search of fertile land. This is the great Serengeti migration
The great migration isn't a single event, but rather a constant commute for herds following Africa's rains … and the land they bring to life. There's no real start and finish to the migration, but rather a clockwise grazing and reproduction route that has followed the same pattern for thousands of years.
Popular Migration safaris in Africa
These popular itineraries can be customised to match your budget and travel dates
More on Migration safaris in Africa
Introduction
The path of the migration sweeps from the southern Serengeti and Ngorongoro plains through the western savanna woodland. From there the animals head towards the north-western part of the greater Serengeti and Mara ecosystems, and back southwards through the eastern part of the parks and reserves.
Along this path, key events occur that are appealing to safari-goers, such as witnessing the thundering mass of animals, watching them cross the Mara River, the birth of their young, and the predators that accompany them.
Migration species
Wildebeest make up 60% of the convoy's volume, followed by zebras, Thomson's gazelles and eland.
January to end March
Volumes of wildlife gather on the southern Serengeti and Ndutu plains
This is the best time to experience the sheer volume of the migration. The flat, green plains and uninterrupted views serve up one of the best opportunities to watch the massive movement of wildlife, and the core Ndutu and southern Serengeti areas are the best places to witness the spectacle.
From January to March, an estimated 8,000 young are born into their various wildebeest, zebra, Thomson's gazelle and eland families. The plains between Naabi Hill Gate in the north, Gol Kopjes to the east, Olduvai Gorge in the south and west to Maswa thriving with new life. Safaris offer nail-biting highlights at this point, with plenty of action that is not always suitable for the faint-hearted. The newborns are fragile and easy targets for predators. Lions, cheetahs, hyenas and even jackals scramble for opportunities to fill their bellies.
July to September
Mara River crossings
From July to September, migration safaris hold the excitement of herds crossing the Mara River. As the animals enter the water, individuals are taken by crocodiles. Their sacrifice secures the survival of this extraordinary journey of species.
These two periods – January to March and July to September – are the best times to experience the most thrilling migration activity. Although the animals are still on the move during the months between and on either side of these times, they don't offer particularly exciting viewing for two main reasons:
From April to June, once the bulk of their youngsters have found their feet, the herds continue their journey north in search of new grass. The long rains of April and May provide enough water and grazing for the animals to spread out over the entire southern Serengeti plains. From east to west they split up into smaller herds in a slow but definite move towards the north.
From October to December the herds are scattered throughout the greater Masai Mara conservancies (often even into Loliondo) and the hills and valleys of the north-eastern Serengeti. At this time of year it's not uncommon to find animals in front of your camp in the evening. However, they will have disappeared by the following morning, having continued their journey southwards. This leg of the migration happens in stages and the herds split up into even smaller herds and groups.
May and June
Moving north
In April and May the heavens open and the Serengeti is showered daily with rain that manages to close many seasonal roads surrounding the area.
May and June make it into the top three best possible times to see herds on migration safaris (when the roads are open again). In June and July herds are harder to track on migration safaris, with the limited road network and private Grumeti Reserves concession in the way.
October to December
Moving south
By October, the animals have depleted the Mara plains of grass and the natural instinct that propels each one kicks in and has them venturing south once more to find fresh grazing. Remarkably, they arrive on the plains at Ndutu a few days after the first rain of the season has fallen. The herd leaves decent-enough grazing at Lobo and the Bologonja Springs and set off southwards again across the eastern and central savanna woodland.
Here, the animals spread out to areas with water and grazing that allow them to be within striking distance of the Ndutu lakes and plains. During this time predators often lurk in the Lobo grass. Will you see a lion strike? Only your migration safari experience will tell…
Know before you go
Two of the best countries to witness this famed wildlife event are Tanzania and Kenya.
A good fact to bear in mind before planning your trip is rainfall patterns as they will change yearly so the migration will be dictated to by this, plan accordingly to avoid disappointment.
This inspiring wildlife event is made up of 1.5 million wildebeest yet also includes roughly 200,000 zebra with less impressive amounts of Grant's gazelle eland, impala and Thompson's gazelle.
This migration is the lengthiest and major animal migration on planet earth. It's believed that the herds traverse roughly 500 miles or 800kms on average for the duration of every migration.
It's believed that roughly 3000 lions follow the migration; however these are not the only predators as crocodiles can also be a huge danger to the migrating animals.
When to go
Basically The Migration follows the events of the wildebeest yearly (think of The Lion King). From January the annual rain starts to fall in the Serengeti which permits the female members of the herd to give birth.
However by March and April the precious wetlands have dried up forcing the great groups of animals to travel north towards Lake Victoria, this is the location for their mating season.
The last step of the migration happens when the animals start making their way through the Masai Mara around June or July this is considered to be a great time of year to gaze at the sight of literally thousands of animals making their way across the notably dangerous Mara River.
What to pack
Binoculars
Camera, plus all the extras including spare batteries and memory cards.
Warm clothes for early morning game drives.
Any kind of durable walking shoes or boots.
Wide brimmed hats and caps.
High spf sunscreen.
A torch
US dollar bills in smaller denominations.
Anti-malaria medication.
For a more extensive list on what to take on a luxury safari consult this webpage.
Weather and Climate
Kenya has a season which is roughly titled 'the long rains' this is from late April, May and early June.
Kenya has a slightly cooler season with less rain and this is from late June until October.
Kenya experiences a second rainy second which is aptly titled 'short rains' this takes place in November and December.
Then the dry season commences from roughly the middle of December until March. Obviously rainfall changes from year to year so this is just an estimate.
Tanzania experiences a tropical climate in the coastal regions which are generally humid and scorching.
Whilst weather in the mountain areas are cool and temperate. The country also experiences two rainy seasons which are October to December (short rainy season) and March to June (long rainy season).
Safari / Holiday Styles
Walking safaris
Nighttime game drives
Visit a Masai village
Migration viewing at Sabora.
Have a picnic on the Tanzanian side of the Mara River.
See the big cats near Rekero Mara Camp.
Where to stay
One of our amazing travel consultants at Discover Africa will ensure that your accommodation needs are met whilst experiencing this awe-inspiring nature event.
Whatever your wish and demand, we can make it come true, whether it's a secret, romantic safari lodge for your honeymoon or an exclusive luxury tented camp site we really do have various options to make your stay an unforgettable experience.
There really is a world of accommodation facilities to choose from when deciding to go on a safari to witness the world cup of wildlife events, The great Migration.
Our Recommended Accommodation
Frequently Asked Questions about Migration safaris in Africa
What is a safari "bucket" shower?
Safari/bucket showers are common in mobile or tented camps where there is no permanent plumbing. They are an effective yet environmentally friendly way to shower where water is at a premium and provide plenty of hot water to wash… go there.
What is the accommodation like on safari?
Safari lodges have guest rooms similar to a hotel with en-suite bathrooms. They are comfortably furnished with all facilities normally associated with a 3-star hotel. Tented lodges have rooms which are tents on a platform and with a roof and… go there.
What languages are spoken in Tanzania?
Language The official language in Tanzania is Swahili but there are hundreds of other local dialects. English is the second official language and the country's commercial language. It is also the main teaching language used for all higher… go there.
How does the weather influence a safari?
While a safari holiday can be at any time of year, it is worth noting that seasonality will impact the type of experience you're likely to have as well as the cost of your safari. During the dry season, the wildlife tends to congregate… go there.
Can I bring my children along on a safari?
Family safaris in Africa are a worthwhile and meaningful experience. Aside from spending quality time with your nearest and dearest under a wide blue African sky, a safari in Africa offers invaluable experiences including unique cultural… go there.
What is a typical day on safari like?
Life on safari has a rhythm of its own, largely dictated by the animal's movements. Generally, the most rewarding times for game viewing is in the cooler early mornings and also late in the afternoons when the animals are most active. A… go there.
When is the best time to see the great migration?
Many people think that the Great Migration happens only once a year, but it occurs every year, with each season offering a unique wildlife experience. Although the migrations take place in a clockwise loop between Tanzania and Kenya, the… go there.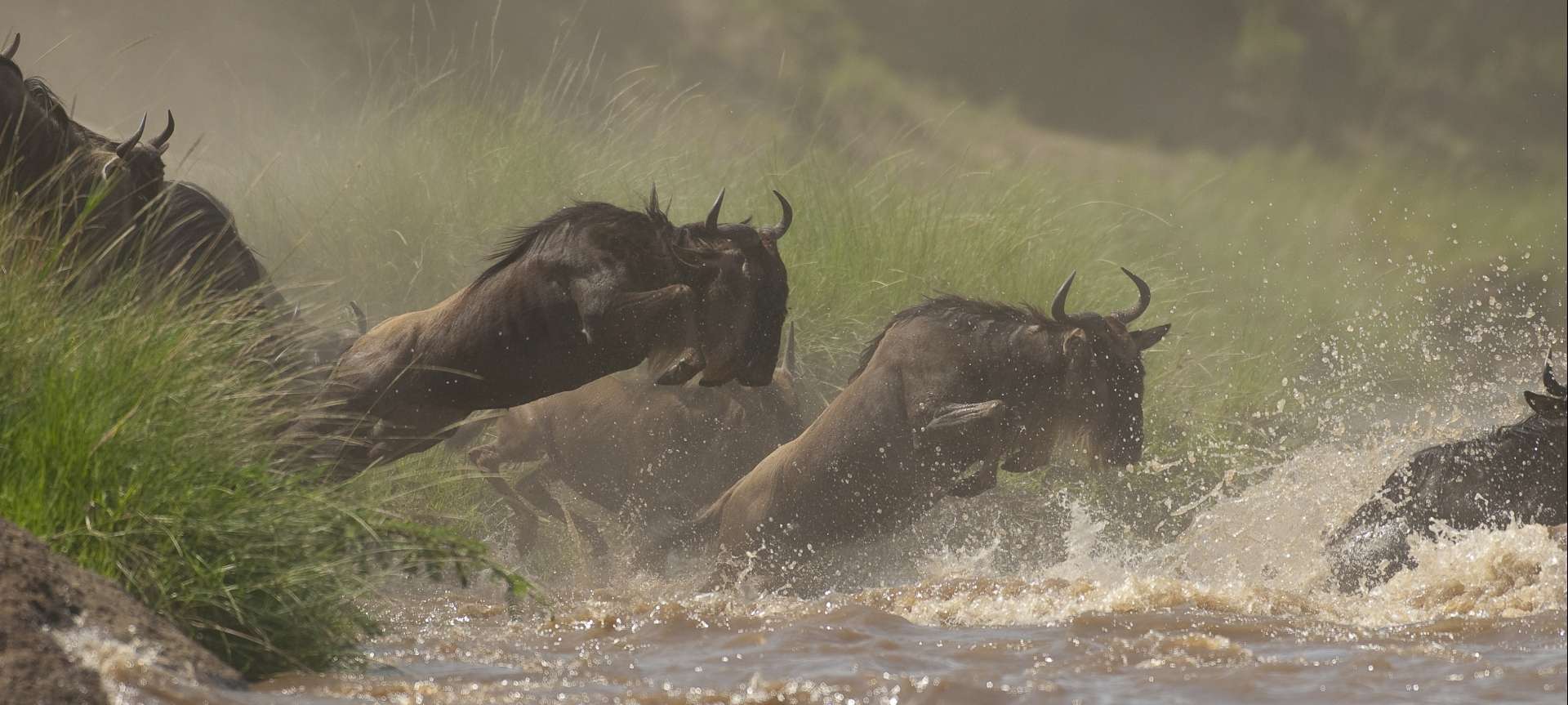 Reviews on our Migration safaris in Africa
Since the beginning, agents and staff of Discover Africa already work in a professional way for me to plan the trip. Their quick responses to my questions help us a lot before departing from our place to the Africa continent. When we were…
YT
from Hong Kong
This was my first safari. I didn't expect to be so pampered. Everything was first class. We had everything provided for us before even asking. We had a dedicated team at our service. Megan was on call whenever we needed something and she…
Saada
from Nigeria
Tanya was an absolute delight to deal with. From the first phone call she was extremely polite, professional and very eager to facilitate my requests regarding our safari. Our 3 nights at the V & A Hotel were fabulous and Motswari Game…
Debbie
from Australia
Perfectly tailor-made tours that take all your wishes and requests into consideration. All my expectations were beyond fulfilled.
Henrik Wetterstrand
from Sweden
Living afar and trusting in an organisation with whom you have no previous knowledge can lead to feeling of mistrust and wondering whether what we have paid for actually exists. A little more proactive communication would have eased those…
Tony Russell
I just wanted to thank Discover Africa and Karl Svendsen - the safari was great - we saw many more animals than expected including cheetah, leopard, many lions and even a three-day old elephant calf. Additionally, we had our own hippo…
Margaret Dean