Honeymoons in Africa, holidays & tours
Honeymoons in Africa, holidays & tours
There's no better way to relax and celebrate your lives together, than on a romantic honeymoon in Africa.
Honeymoons in Africa, holidays & tours available in
Botswana, Kenya, Mozambique, Namibia, Rwanda, South Africa, Tanzania, Uganda, Zimbabwe
Custom designed Honeymoons in Africa
Describe your dream trip
We'll put together the best value for you
Book when you're ready
Help Me Plan
There's no better way to relax and celebrate your lives together, than on a romantic honeymoon in Africa.
Your honeymoon is one of those vacations that must be perfect, but the vast number of honeymoon safaris in Africa might be overwhelming.

An African honeymoon is the only truly true honeymoon location, with countless options ranging from romantic boutique camps and lodges in the Serengeti and Okavango Delta to evenings beneath the stars on privately-owned wildlife concessions.
Beaches and tropical islands, hot air balloon excursions over the savannah plains, and an energy and love that can only be found on an African honeymoon.

Honeymoons are extremely personal and specialized experiences that necessitate a great deal of attention. It's critical to plan the ideal itinerary and lodgings to make it as memorable as possible.
Popular Honeymoons in Africa
These popular itineraries can be customised to match your budget and travel dates
More on Honeymoons in Africa
Introduction
Tanzania

Tanzania's iconic Great Wildebeest Migration takes place in the Serengeti, but the country is also home to large cats, vast elephant herds, and healthy chimpanzee-filled rainforests.

The blue Indian Ocean islands, paired with unspoiled wildlife parks and reserves, provide for an amazing African honeymoon getaway that is both unspoiled and real.



Scenic dinner table in Tanzania

It is currently Africa's most popular honeymoon destination. The warmth and friendliness of the people, along with the world's best parks and reserves, islands, and beaches, is unrivalled and makes your honeymoon in Africa even more special.
When you're on an African honeymoon safari, you can expect skillfully guided wildlife drives and the possibility to go hot-air ballooning. You may go on walking safaris, night drives, off-roading, and even mountain biking to the list if you stay in a private reserve or conservancy.
Botswana
The next honeymoon destination in Africa is Botswana. On a honeymoon safari in Botswana, you can see tens of thousands of elephants, big cats, and wild dogs, as well as rivers overflowing with crocodiles and hippopotamuses.
At the right time of year, reserves and parks offer a wonderful safari experience. Botswana is easily accessible, with intimate mobile boutique camps in remote areas, and can easily be combined with South Africa's or Mozambique's beaches.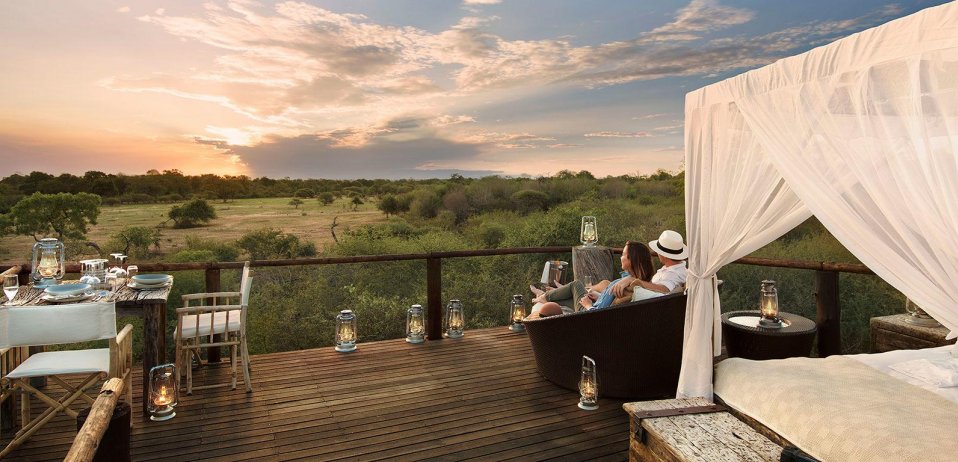 Honeymoon in Botswana with a scenic view

Game drives are the main emphasis of a Botswana honeymoon; you'll go out early in the morning and late in the afternoon in search of big game, returning to camp with a spotlight to catch nocturnal animals on the hunt.

South Africa
One of the best Honeymoon safaris in South Africa. A honeymoon filled with beautiful beach destinations, gorgeous wildlife lodges and campgrounds from beginning to end. It's one of the rare destinations in Africa where you can easily merge the bush with the beach.

South African honeymoon with wildlife spotting

Vineyards, deserts, and savannahs abound throughout the Rainbow Nation, making it difficult to realize that you're in the same country. Furthermore, some of South Africa's greatest safari honeymoon places provide star-bed sleepouts, allowing you and your sweetheart to spend a night under the African sky.
Kenya
Despite the fact that this is mostly a major tourist beach destination, there are a few private villas or lodges that provide truly romantic honeymoon getaways.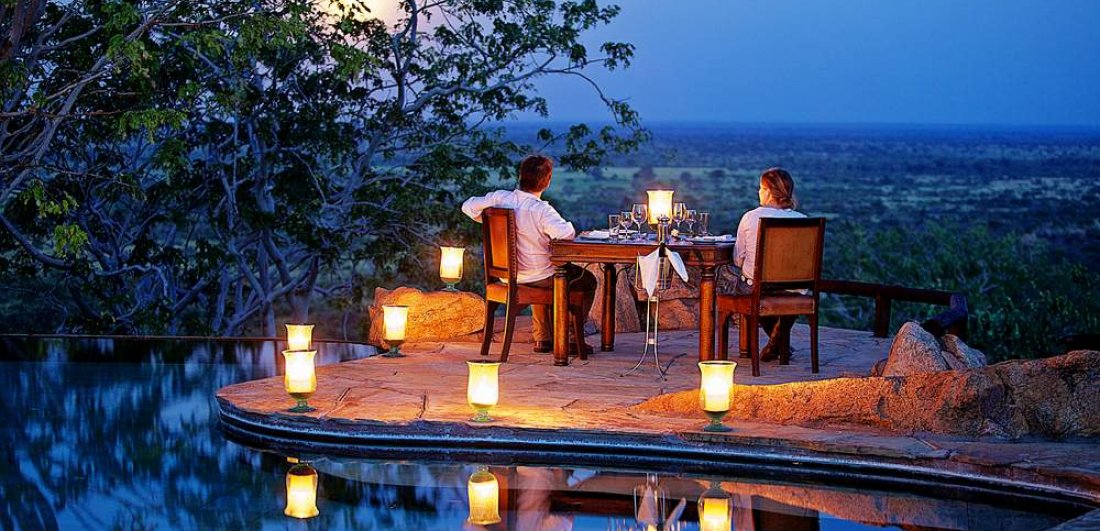 Kenya Safari Lodge with a scenic view​
For a honeymoon in Kenya, the coast can be paired with the Laikipia, Lewa, and central highlands. Lamu, in the north, has beautiful beaches in a remote position that can be paired with a trip to the Masai Mara or private wildlife parks and woods. many lodges also offer hot-air balloon safaris that include a champagne breakfast and visits to a Maasai town.
Uganda
The beaches of Lake Victoria go well together, and few things are more romantic than a wooden cottage amid the African bush. Another fantastic choice is the Nile River. A romantic honeymoon holiday in Uganda for wildlife and environment lovers means thrilling animal encounters, wilderness experiences, and exploring gorgeous landscapes without the crowds.

Uganda honeymoon safari

Uganda's luxury lodges are strewn across the country's most beautiful wilderness areas, national parks, private islands and rainforests and offer intimate tented cottages and spacious suites serviced by butlers, with extras like private plunge pools and special touches like romantic meals and bush picnics for just the two of you on your romantic honeymoon in Africa.
Mozambique
When looking at where to honeymoon in Africa, do you tend to look out for an out-of-the-way beach retreat with plenty of romantic amenities and beautiful weather? Mozambique's private islands are great for a romantic honeymoon in Africa. Southern Africa's best beach locations are the Quirimbas and Bazaruto archipelagos.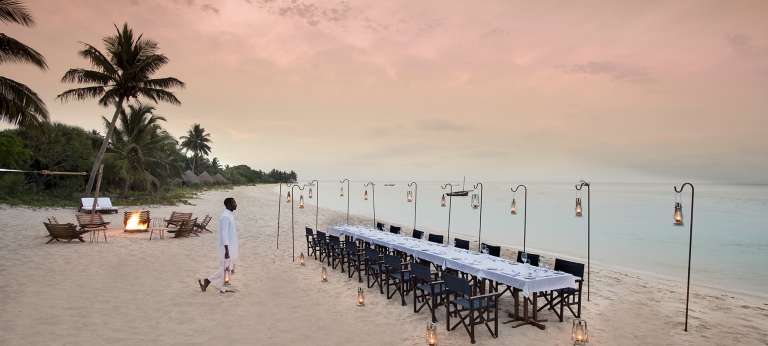 Mozambique Honeymoon holiday
Combine these with some excellent honeymoon safari areas in South Africa, just across the border. The Quirimbas are ideal for scuba divers and water sports enthusiasts, but you don't have to get your feet wet to appreciate them. Beachside massages and sunset tours on a traditional sailing dhow are also available.
Namibia

A whole different kind of beauty. With the barren, flat desert and the wildlife-rich Etosha National Park, the space and contrast have their own special beauty and attraction for honeymooners. There is also the Atlantic Ocean, which offers breathtaking views and sunsets. Namibia is ideal for the adventurous honeymoon couple seeking space and tranquillity, as well as beautiful scenery and friendly natives.
Honeymoon in Etosha Pan​
The Namib desert is a captivating land of calm, primitive beauty with night skies bursting with stars during the dry season, which runs from June to October. A visit to the iconic Sossusvlei dunes, which rise hundreds of feet above you, is a must-do activity on your African honeymoon : you can either hike up a dune to greet the morning sun or take a balloon ride for a bird's-eye perspective. You'll also go on a desert exploration with professional local guides, looking for rare creatures in a surprisingly diverse setting.
Know before you go
It's a lot of fun to plan your first adventure as a married couple. And spending it in the stunning African environment is a fantastic option. When choosing which Honeymoon destinations in Africa you want to visit, there are a few things to bear in mind. Especially during your honeymoon, so you may have the time of your lives together.
Not every Game Reserve has the same animals
The geography and landscape change depending on where the game reserves are located.
A diverse range of fauna coexists with the various terrains. Hippos prefer locations with plenty of water, whereas cheetahs prefer more open grasslands.
The best option is to make a bucket list of animals you want to see on your honeymoon safari and then choose a reserve that is known for seeing these animals.
The Luxury Camp is a big investment
A safari that includes a stay at a luxury camp can be costly. Travelling to a more prestigious camp, on the other hand, has its advantages. Luxury camps contain fewer accommodations and, as a result, fewer people in camp at any given moment. You'd have a little more privacy if you were on your honeymoon.
Because there are fewer people in the camp, there are fewer individuals on game drives. There would be fewer people in each vehicle, giving you a more personalized experience on your African honeymoon.
Because luxury camps have fewer spaces, they frequently do not allow children to remain. When you stay in a larger hotel or in the city, there are lots of places to escape to when your children are around. While on safari, however, you are limited to the areas surrounding the lodge. Also, relaxing by the pool while families are enjoying the African sun may not be ideal.
Most lodges offer more than safari drives
You're visiting Africa for the first time, and you're looking forward to your first safari. When you think about an African honeymoon safari, you probably picture yourself going on a game drive early in the morning as the sun rises over the African bush. However, while on safari, there are alternative ways to explore the bush. Most resorts offer bush walks or even longer walking safaris where you can get up and personal with the bush.
You may also be able to explore by motorboat or canoe, depending on the location of your safari lodge. Because game activities are usually planned in the early mornings or late afternoons, it could be worth considering a camp with a few additional amenities. Perhaps a spa or a gym. Nothing compares to a relaxing back massage in the African wild!
Three of Four days is usually enough time at camp
Even if this is your first safari, you may not want to spend the entire trip in the wild. Cities in Africa have a lot to offer, and you might want to combine your African honeymoon with another trip. Perhaps a day at the beach or a hike in the mountains.
You should try to stay at a safari lodge for at least three nights. This would allow you enough time on your honeymoon safari to see the species on your bucket list, as well as time to enjoy the lodge's amenities or simply relax in your room. Most safaris are rushed, and you may have reserved a fantastic room, but you will spend very little time here.
You will need to get some vaccinations
If you are travelling to Africa, you should be aware that you may require immunizations. Yellow Fever and Malaria prophylaxis are two of the most prevalent immunizations. Avoid these areas/countries if you prefer not to have any vaccinations or if you are at risk medically for these vaccinations.
But don't let this deter you from going on your honeymoon safari in Africa. You may still go on safari without taking any risks. When visiting the Madikwe Game Reserve in South Africa, for example, you won't require a Yellow Fever vaccination or Malaria treatment. This is a fantastic Big 5 game reserve, as well as a place where you can see Wild Dog packs.
For many people, an African safari is a dream come true, and celebrating your honeymoon in Africa only adds to the magic. You'll be on the correct route if you keep the aforementioned suggestions in mind.
When to go
What to pack
Weather and Climate
Safari / Holiday Styles
Where to stay
Our Recommended Accommodation
Frequently Asked Questions about Honeymoons in Africa
What vaccinations should I get?
This is all dependant on the countries that you will be visitng and due to the status of certain vaccinations changing at times, please consult our experts before getting vaccines. go there.
Is it okay to drink the water?
In some parts of Southern Africa it is safe to drink the tap water, however it is highly recommended to stick to bottled water (mostly supplied) during your trip as even drinkable African water is completely different in taste and… go there.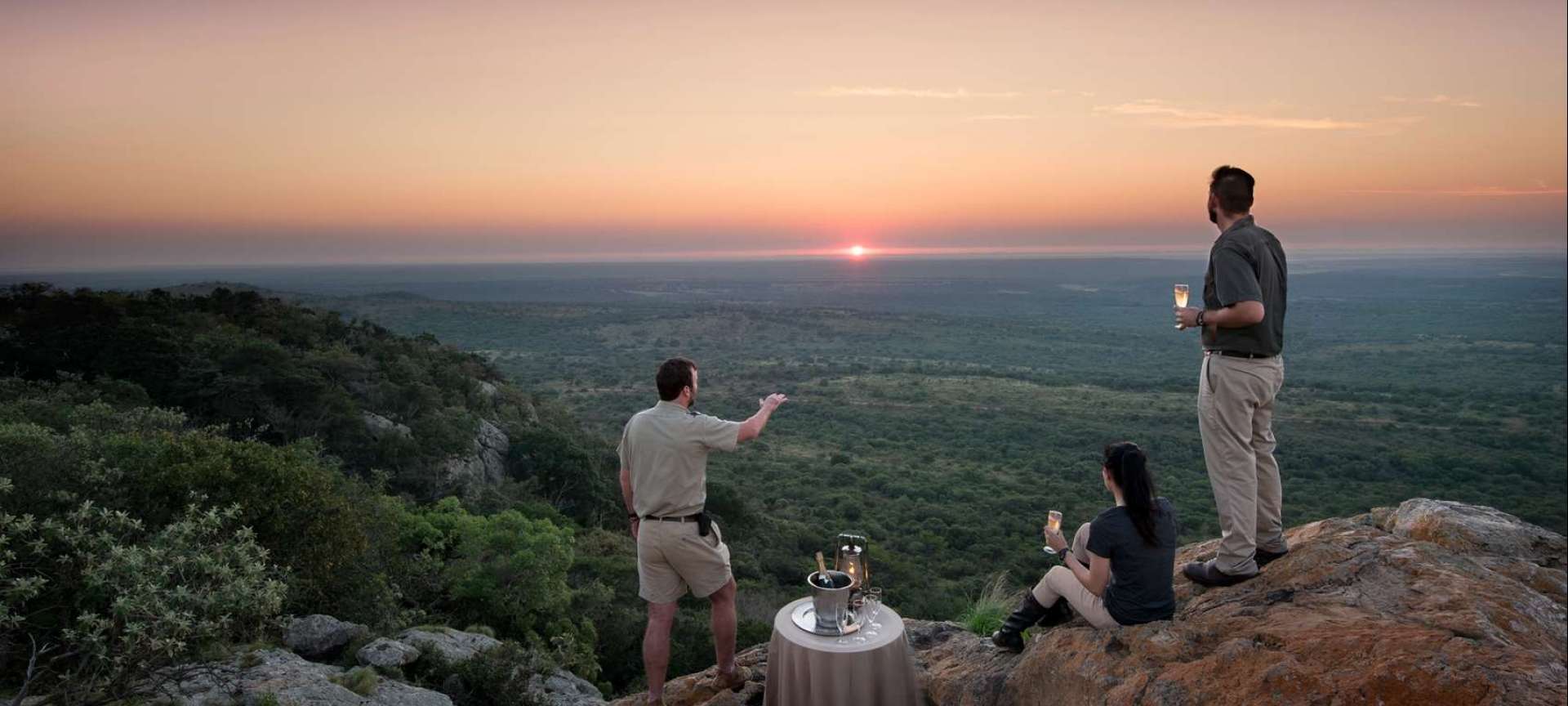 Reviews on our Honeymoons in Africa
Since the beginning, agents and staff of Discover Africa already work in a professional way for me to plan the trip. Their quick responses to my questions help us a lot before departing from our place to the Africa continent. When we were…
YT
from Hong Kong
This was my first safari. I didn't expect to be so pampered. Everything was first class. We had everything provided for us before even asking. We had a dedicated team at our service. Megan was on call whenever we needed something and she…
Saada
from Nigeria
Tanya was an absolute delight to deal with. From the first phone call she was extremely polite, professional and very eager to facilitate my requests regarding our safari. Our 3 nights at the V & A Hotel were fabulous and Motswari Game…
Debbie
from Australia
Perfectly tailor-made tours that take all your wishes and requests into consideration. All my expectations were beyond fulfilled.
Henrik Wetterstrand
from Sweden
Living afar and trusting in an organisation with whom you have no previous knowledge can lead to feeling of mistrust and wondering whether what we have paid for actually exists. A little more proactive communication would have eased those…
Tony Russell
I just wanted to thank Discover Africa and Karl Svendsen - the safari was great - we saw many more animals than expected including cheetah, leopard, many lions and even a three-day old elephant calf. Additionally, we had our own hippo…
Margaret Dean