Everything you need to know about your Tanzania safari
Welcome to Discover Africa's definitive Tanzania safari guide. From the great migration of the Serengeti to the more remote parks, Tanzania offers superb game viewing in a dramatic setting of snowy peaks, volcanic craters and the Masai steppe of endless plains.
---
Our Recommended Tour
This itinerary provides an all-around Tanzanian wildlife experience. You'll visit four of the finest national parks and reserves and see the best they have to offer. You'll stay in good lodges and camps, but nothing fancy – just good value. If you enjoy Africa in a no-nonsense way, with the focus on good sightings and wonderful areas, this is the choice for you.
Day 1

When you arrive at Kilimanjaro International your driver guide will meet you to start your safari …

You'll have a quick safari briefing before a late dinner at your hotel. Overnight at Arusha Coffee Lodge, with breakfast included.

Day 2

You'll drive to Tarangire National Park for your first two days on safari. The Great North Road…

that takes you to Tarangire is about 90 minutes from Arusha. You'll stop for a warm lunch en route before continuing south along the Tarangire River during the afternoon. Overnight at Kirurumu Tarangire Camp, with your meals included.

Day 3

This is your first full day on safari so get out early to explore the river system all the way to Siale swamp, where …

you'll find elephant herds, birds and some big cats. Overnight at Kirurumu Tarangire Camp, with your meals included.

Day 4

You'll drive towards the Great Rift Valley's Gregory Rift to visit Lake Manyara National Park, famous for its tree-climbing lions …

There's wonderful rain forest vegetation and good primate species, pelicans and flamingo. Enjoy lunch at Kirurumu Manyara Camp and an afternoon drive at Lake Manyara before driving up the escarpment in the late afternoon and up the rim of Ngorongoro Crater. Overnight on the Crater rim at Kirurumu Ngorongoro Crater Camp, with meals included.

Day 5

You'll spend a full day on the floor of the Ngorongoro Crater (caldera), exploring and trying to find the endangered black rhino…

as well as lion and cheetah. Overnight again at Kirurumu Ngorongoro Crater, with your meals included.

Day 6

The Great Migration should be just north-west of Ngorongoro Crater and you'll drop down onto the southern Serengeti/Ndutu plains…

With a packed lunch, you'll spend the whole day driving and looking for herds and some predator interaction. It's hard to take in the vast numbers of wildebeest dotting the green plains of the southern Serengeti. Overnight at Kirurumu Ndutu Camp, with your meals included.

Day 7

Spend your first full day on the plains with the herds. You'll also go looking for some predator interaction. It's easy to find cats with the migration present …

the wildebeest, zebra and gazelles occupy so much space that if you see an open circle you know that there must be a predator at its centre. This is the ideal time to follow cheetah or lion to see what they're up to during the calving season. Overnight at Kirurumu Ndutu Camp, with your meals included.

Day 8

On your last day on the plains, you'll venture further west towards Matiti Hill to look for more migratory plains game and spotted hyena. …

If needed, you can enter into the Serengeti side of the plains because our park fees include the Ngorongoro Conservation Area and Serengeti National Park. Overnight at Kirurumu Ndutu Camp, with your camp fire and meals included.

Day 9

Your safari in the south-western Serengeti ends at Moru. The top end of the migration might be here towards the end of March and it's a wonderful area …

with or without the migration. If you're lucky you might bump into rhino, but good lion and leopard sightings are likely all year round at Moru. Overnight at one of our favourite camps, Dunia, with your meals and drinks included.

Day 10

On your last full day on safari, you'll look for leopard if you haven't seen this elusive cat yet. Driving north from Moru towards the Seronera Valley …

we'll look for one of three leopards we know are in the area. Fundi, Mawe and our favourite, Hatari, can be found along the tree line that runs with the Seronera river system just west of the airstrip. Overnight at Dunia Camp with your meals and drinks included.

Day 11

Your safari ends with a last morning game drive to Seronera airstrip, from where you'll fly back to Arusha. Enjoy aerial views of Ngorongoro Crater …

and Ol Doinyo Lengai, the Masai holy mountain. We'll transfer you to Kilimanjaro International for your connecting flight home.
---
Highlights of Tanzania
Serengeti and the Ngorongoro Crater

At 14,763 square kilometres in size, the Serengeti is arguably the finest national park in Africa and offers a wealth of wildlife viewing opportunities …

Pretty much every large animal in East Africa can be regularly seen in the national park or wider ecosystem. When you include all the contiguous protected areas, of which Ngorongoro is one of the most noteworthy, the total size of the entire Serengeti-Mara ecosystem is a staggering 30,000 square kilometres packed choc-full of truly extraordinary wildlife sightings. Renowned for its predators – especially lions, leopards and cheetahs – and with plenty of elephants favouring the western woodlands of Grumeti, the Serengeti dazzles even the most hardened safari critics. There is even a recovering black rhino population concentrated around Moru Kopjes giving visitors a realistic chance to sighting all of the Big Five (lion, elephant, rhino, leopard and buffalo), although the critically endangered black rhinos will undoubtedly prove the greatest challenge. The Serengeti ecosystem is also a renowned bird-watching destination, with over 500 species recorded to date. Exploring the unique Ngorongoro Crater – surrounded by the towering volcanic walls on every side and blessed with prolific and extremely well-habituated wildlife – almost feels like you're driving through a zoo; only the surrounding crater scenery is jaw-droppingly impressive. With the greater Serengeti ecosystem so blessed with wildlife and scenic beauty, it is hard to imagine it could have anything more to offer, but the great East African migration steals the show.

Highlights

When it comes to Serengeti highlights there are so many (as alluded to previously), but there is quite simply nothing to match the migration with its sheer numbers, noise, majesty and splendour …

Importantly, there is no beginning or end to the migration, so you can witness the great herds during any month of the year so long as you plan your safari to visit the right region within the ecosystem to coincide with where the animals are concentrated at that particular time of the cycle. The rainfall drives the movement patterns of the great herds of wildebeest and other plains game, so it must be emphasized that the description below refers to a typical year of normal rainfall in the usual seasons. It is not uncommon for the wildebeest movements to be delayed or sped up if unseasonal rain falls in another part of the ecosystem, attracting the animals to the green flush that follows. Typically the wildebeest and zebra herds, along with decent numbers of eland and gazelles, will shift as follows:

In January and February the great herds are ensconced on the nutritious short-grass plains in the south and southeast of the ecosystem with their newly born calves. The zebra and gazelle do not have a pronounced birth spike like the wildebeest and their birthing period is more spread out between the months of December and April.
In March and April, at the height of the green or emerald season, the great herds typically start to come together with their young calves usually in the vicinity of Naabi Hills on the southern plains where they reach their highest densities.
In April or May, the northward migration begins (this is called the Moru Crush when the migration exits the plains through a narrow valley at Moru Kopjes) with the wildebeest rut then taking place around May in the Seronera region of the central Serengeti.
May or June sees the first of the iconic river crossings when the herds make their way across the Grumeti River in the western Serengeti.
July to October sees the herds enter the far north of the ecosystem as they cross the Mara River in the northern Serengeti in what many safari stalwarts consider to be the holy grail of safari sightings. It certainly is a sight to behold: thousands of wildebeest plunging into crocodile-infested waters driven forward by instinct and an irresistible urge to access fresh grazing on the other side.
From October to November, the herds turn and move southward and into the central Serengeti once more. This is probably the most unpredictable time with huge columns of wildebeest veering off – often back into the western corridor – depending on wherever the first showers have fallen and fresh green grass is emerging.

Practical advice

The migration is quite unique in that it is a perpetual phenomenon without beginning or end. It is universally regarded as one of the greatest wildlife spectacles on earth …

The sound alone is deafeningly impressive. It is, however, often very difficult to appreciate the scope and sheer size of the migration because, without a bird's eye view of proceedings, it is difficult to comprehend the sprawling scale of the wildebeest numbers. A sunrise hot air balloon ride is the ideal way to appreciate the huge herds and long columns of plodding animals. Standing atop a rocky kopje is another recommended way to gain some perspective to better appreciate the sheer number of animals involved. While most safari goers target the June-July period for the western corridor and Grumeti River crossings, as well as the July-October period for Lamai and the Mara River crossings, there is a strong argument for waiting for the less popular rainy season months to view the wildebeest in the southern plains when they give birth to half a million calves over a three week period – usually in February.

Climbing Mount Kilimanjaro

The name Kilimanjaro is a mystery and is thought to mean "Mountain of Light" or "Mountain of Greatness" …

No one is quite sure, but what is not under dispute is that Mount Kilimanjaro at 5895 metres (19,336 feet) is the highest peak on the African continent and tallest freestanding mountain on earth: undoubtedly one of the continent's most magnificent sights rising up in splendid isolation from the plains below. Crowned with an everlasting snow-cap, this majestic mountain can be found inside the Kilimanjaro National Park with its slopes and glaciers towering high above the clouds. The mountain ecosystems are as strikingly beautiful as they are diverse. On the lowland slopes, much of the mountain has been converted to farmland with coffee, banana, cassava and maize crops grown for subsistence and cash-crop purposes. A few larger coffee farms still exist on the lower slopes, but much of the area outside the national park has been subdivided into small agricultural plots. Once inside the park, thick lowland forest covers the lower slopes giving way to alpine meadows once the air begins to thin. Near the peak, the landscape becomes harsh and barren with rocks and ice the predominant features as you approach the snowy summit of Africa atop Kibo peak. The volcanic summit stands imperious: overseer of the continent and the magnificent African landscape far below.

Highlights

Few mountains can claim the grandeur and the scintillating views over the Great Rift Valley and Amboseli National Park in neighbouring Kenya that belongs to Kilimanjaro …

Hiking to the 'roof of Africa' – the highest point on the African continent – is for many people the adventure of a lifetime and the highlight of their entire Tanzania experience, especially because the routes are non-technical and accessible to almost any reasonably fit and healthy person. Everyone from seasoned trekkers to first-time hiking enthusiasts can successfully tackle and scale the snowy summit provided they climb slowly, acclimatize properly and are adequately equipped for the wind and biting cold.

Practical advice

Around 50,000 intrepid travellers climb Kilimanjaro every year. There are no accurate figures on how many of those climbers actually successfully reach the summit …

but an overall success rate of around 75% is realistic (despite the fact that almost every climbing company claims 97% of their clients reach the top!). While Kilimanjaro is relatively straightforward to climb that does not meant it should be underestimated and there are usually around six or seven deaths each year. In order to climb Kilimanjaro you need to be at least ten years old, while the oldest summiteer to date conquered the mountain at the ripe old age of 88 years! A typical trek to the summit of Kilimanjaro takes between six and eight days with five days being the legal minimum. It is well worth adding an extra couple of trekking days to acclimatize adequately and to appreciate the views and scenery; your climbing experience will be so much more enjoyable for it. Kilimanjaro can be climbed via six 'official' routes as well as a number of combinations and permutations of those routes. The six trails (running anti-clockwise, beginning with the north-western most trail) are: the seldom-used Shira Route, forested Lemosho Route, Machame Route, Umbwe Route, Marangu Route, and the Rongai (or Loitokitok) Route that approaches Kili from the north-east. For those aspiring mountaineers whose sole purpose of climbing Kilimanjaro is to get to the summit, the Lemosho, Machame and Rongai routes are statistically the best bets. On the other hand, those wanting to dodge the crowds should look at Lemosho and Umbwe routes (ignoring alternative or 'unofficial' routes). While for a standard, no-frills and more affordable climb, the Machame, Marangu and Umbwe routes will be your best bet. And if you don't want to stay in tents, then Marangu is the only option with its basic huts.

Holiday in Zanzibar

Zanzibar, situated between 25 and 50 kilometres off the mainland coast in the Indian Ocean, is a semi-autonomous region of Tanzania …

Known collectively as the Spice Islands, the Zanzibar archipelago consists of roughly 50 small islands and islets, as well as two main ones: Unguja (usually referred to informally as Zanzibar) and Pemba. The capital of the region, located on the island of Unguja, is Zanzibar City with its well-known and much-visited Stone Town historic centre: a UNESCO World Heritage Site. The postcard-perfect island of Zanzibar oozes culture and history that is at first brush seemingly at odds with its idyllic geography of white-sand beaches and coconut palms swaying lazily in the sea breeze. But it is precisely this diversity that makes Zanzibar such an attractive and varied island to explore, as well as a dream destination for simply relaxing and recharging.

Highlights

Zanzibar, situated between 25 and 50 kilometres off the mainland coast in the Indian Ocean, is a semi-autonomous region of Tanzania …

Known collectively as the Spice Islands, the Zanzibar archipelago consists of roughly 50 small islands and islets, as well as two main ones: Unguja (usually referred to informally as Zanzibar) and Pemba. The capital of the region, located on the island of Unguja, is Zanzibar City with its well-known and much-visited Stone Town historic centre: a UNESCO World Heritage Site. The postcard-perfect island of Zanzibar oozes culture and history that is at first brush seemingly at odds with its idyllic geography of white-sand beaches and coconut palms swaying lazily in the sea breeze. But it is precisely this diversity that makes Zanzibar such an attractive and varied island to explore, as well as a dream destination for simply relaxing and recharging.

Practical advice

Although it is officially part of Tanzania, Zanzibar is in almost all aspects – politics, religion, culture and food – very different …

Developed originally as a base for traders from the African lakes region, India and Arabia, Zanzibar became a hub for the region's slave and spice trades. Consequently, most Zanzibaris consider themselves Zanzibari rather than Tanzanian, and their territory has its own leader and governing bodies. While mainland Tanzania is a mix of Muslim, Christian and various indigenous groups, Zanzibar (which the Sultanate of Oman ruled for centuries) is almost entirely Muslim. Despite being overwhelmingly Muslim, conservative casual wear is generally acceptable dress everywhere, but revealing clothes should be avoided since they may cause offence – particularly in towns and villages in the coastal areas where there is a very strong Muslim influence. In Zanzibar specifically, you will need to cover your knees and shoulders when outside of the hotel and beach resort areas. It is also worth recognizing that while thunderstorms and rain showers can introduce an exciting element to a wildlife safari, heavy rainfall doesn't tend to enhance a beach holiday! As such, it's a good idea to try and make sure you visit Zanzibar or any of the other Indian Ocean islands during the drier months from June to October and December to February to ensure the optimal island and beach experience.
---
Travelling to Tanzania
Northern Safari Circuit

The northern safari circuit is bookended by Lake Victoria and Rubondo Island in the west and Mount Kilimanjaro in the east. To the north lies the Kenyan border with the Masai Mara and Amboseli reserves located just across the frontier. Tarangire National Park is regarded as the most southerly tourist attraction in this diverse and breathtaking safari region. Within a relatively compact geographical area, safari goers will have access to a multitude of other iconic parks and major tourist attractions, including the Serengeti, Ngorongoro Crater, Oldupai Gorge, Lake Natron, Ol Doinyo Lengai volcano, Mount Meru, Arusha National Park and Lake Manyara.

Stay at Nomad Serengeti Camp

Rubondo Island

Highlights of the Northern Safari Circuit

First-and-foremost amongst a profusion of highlights on the northern safari circuit is the Serengeti National Park, encompassing 14,750 square kilometres and making up 50% of the wider Serengeti-Mara ecosystem, this is an iconic wildlife area. Sensational scenery dominated by expansive savannah grasslands and peppered with distinctive flattop acacias and balanites trees make this one of the most picturesque landscapes in all of Africa.

What you need to know about the Serengeti

Throw in 1.7 million wildebeest, 300,000 zebra and 400,000 gazelles and you have a wildlife spectacle second to none. Whether your budget stretches to incorporate a visit to the luxurious lodges within the exclusive Singita Grumeti concessions of the western corridor, or is limited to the budget offerings of Ikona Wildlife Management Area, the Serengeti and its surrounding reserves offer safari accommodations and experiences to suit most budgets.

The Great Wildebeest Migration makes its way across the Grumeti every year

Adjoining the south-east of the Serengeti National Park lies the exclusive Legendary Lodges concessions of Mwiba and southern Maswa that wrap around into the extensive Ngorongoro Conservation Area. Most visitors only ever see the Ngorongoro Crater, but if you have your own vehicle you have a unique opportunity to leave the safari hordes behind and explore the wider conservation area that is a mixed-use area for wildlife and Maasai pastoralists. Within this protected area, the vast Oldupai Gorge (originally misnamed Olduvai) is an archaeological site made famous by the Leakey family for being home to some of the continent's most important hominid fossils. The Ngorongoro scenery is sensational and provided you visit outside of the peak safari season months (June – September) you will fall in love with this attractive crater packed full of habituated wildlife and mesmerising scenery.

Mount Kilimanjaro is an anomaly. Located virtually on the equator, this 5,885 metre high conical, free-standing volcano seems so out of place with its snow-capped peak dwarfing the rift valley below. Whether you come to Tanzania to climb its legendary slopes to stand atop Uhuru Peak, or simply to gaze and photograph its majesty, as it presides over the plains and parks below, it would be wrong to come to Tanzania and not spend some time appreciating this grand old mountain that forms the roof of Africa.

A lodge overlooks the legendary southern Maswa concession

The plentiful wildlife and giant elephant tuskers of Tarangire National Park, along with the seasonal appearance of upwards of a million flamingos that descend upon shallow Lake Manyara, round out the top five highlights for any safari to the northern circuit.

Practical information

Tourist infrastructure is considerably better developed across the northern region with a wide variety of accommodation options from rustic campsites and budget lodgings to boutique camps and exclusive safari lodges that are amongst the very finest in Africa. While many visitors opt to fly between camps to save time, there is an extensive and well-maintained road network that enables relatively easy movement overland, although during the heavy rains from March to May, you should expect bridges and river crossings on the minor roads to periodically become submerged and even collapse after heavy rainfall. Unpaved secondary roads also take a real beating over this period.

Safety is not a major concern in northern Tanzania. The biggest non-weather related challenges you are likely to encounter while travelling through northern Tanzania will be with roadblocks, petty police harassment and traffic fines. Diesel and petrol are both widely available outside of the protected areas, but it is worth stocking up on fuel and supplies in the bigger towns and cities of the region, such as Mwanza, Arusha and Moshi, whenever you are passing through.

Back to regions

The Southern Safari Circuit

The southern safari circuit sprawls across southern Tanzania. From the gigantic Selous Game Reserve in the east to Mahale Mountains and Gombe Stream national parks on the shore of Lake Tanganyika in the west, this is wildest Africa and the domain of adventurers and explorers. Between Africa's deepest lake and the Selous World Heritage Site lie the diminutive Mikumi and Udzungwa Mountains national parks, as well as the impressive Ruaha-Rungwa ecosystem and the beguiling Katavi-Rukwa landscape. For those intrepid travellers who opt for the road less travelled, the alluring southern safari circuit beckons with the promise of genuine wilderness and real adventure.

What to do for two weeks in Tanzania

The Selous Game Reserve is one of the most enjoyed in Tanzania

Highlights of the Southern Safari Circuit

Bisected by the crocodile-infested Rufiji River and home to the world-renowned Stiegler's Gorge, the 50,000 square kilometre Selous Game Reserve remains an iconic safari destination and long-standing safari highlight of southern Tanzania despite its on-going poaching and hydro-development challenges. Although poaching has ravaged the enormous elephant herds of years gone by, the Selous still supports around 16,000 of these grey giants as well as a thriving population of wild dogs.

Flying over Stiegler's Gorge in Tanzania

One of the largest national parks in East Africa, the 20,226 square kilometre Ruaha National Park is almost unknown outside of Tanzania, yet with an estimated 10 percent of the surviving wild lion population in Africa, it is definitely a highlight on any trip to explore the wild south of the country. Beautiful landscapes peppered with giant baobabs, elephants, abundant plains game and one of the only places you will see greater kudu in Tanzania are further good reasons to make sure Ruaha is on the itinerary of every intrepid safari connoisseur.

Why the Southern Circuit?

It is best explored during the long dry season from June to October when the animals congregate near the perennial Great Ruaha River, which – along with the Mwagusi, Jongomero and Mzombe rivers – provide the lifeblood of the park. The banks of the Ruaha are a permanent hunting ground for lion, leopard, cheetah, hyena and even the endangered African wild dog, which prey on the impala, gazelle and waterbuck that come to drink at the river. Whether exploring this large tract of African wilderness by vehicle or foot, Ruaha is a special place to visit.

Ruaha is a special place to visit for many reasons

Wild and remote Katavi National Park is one of the country's most unspoiled and untouched bush settings with amazing landscapes and rich wildlife. The 4,471 square kilometre park is difficult to access and consequently can be relatively costly to visit. As a result, few people make the effort to come here.

While the Serengeti might see 125,000 visitors in a year, the remote Katavi sees no more than a few hundred brave adventurers by comparison. This is wild Africa at its very best and, provided you have the time and budget, it's a park that's absolutely worth exploring. With only a couple of small, rustic safari camps, you often come across more prides of lion than fellow safari aficionados on a game drive in Tanzania's third largest national park.

Surrounded by woodlands, two gigantic sprawling grassy plains – Chada and Katasunga – dominate the park and provide a dramatic setting for watching lion-buffalo interactions. During the dry season, the Katuma and Kapapa rivers are the only permanent water in the area and act as a magnet for thirsty wildlife. Hundreds of hippos congregate in the shrinking waterholes and enormous crocodiles sit out the heat inside mud-holes excavated into the riverbanks.

Katavi National Park is one of Tanzania's most underrated

Without road access, many safari stalwarts regard Mahale as Tanzania's most remote park, but also one of its most enthralling. The star attractions are the 1,700 chimpanzees that reside within the 1,613 square kilometre protected area, but the holy grail for most visitors is the 60-strong Mimikere or 'M' group, which has been studied by researchers for more than four decades. While the M group of chimps are well habituated, finding our closest relatives can be a challenge. Be prepared for some sweaty, steep climbing through dense vegetation, but the trials and tribulations are well worth the end result.

The Mahale Mountains National Park is a special part of Tanzania

Practical information

The southern safari circuit is definitely best attempted during the dry season. Infrastructure is far more limited and basic than you'll encounter up north. There are also considerably fewer safari camps and accommodation options than the more popular northern circuit, but this is precisely the reason for the southern park's off-the-beaten-track appeal. It's also worth noting that there are no roads into Mahale Mountains National Park with visitors having a choice between travelling in by air or by boat.

While most visits to Tanzania's southern safari circuit are trouble-free, travel advisories are increasingly citing a rise in armed crime. That said, you stand considerably more chance of being injured in a road accident, or getting ill with malaria, or even perishing from a capsized ferry on Lake Tanganyika, so take some sensible safety precautions and you should be fine.

Back to regions

Zanzibar and the Indian Ocean Islands

From the often-overlooked and largely undeveloped tropical paradise of Pemba Island in the north to the classy utopia of Mafia Island in the south, Tanzania's tropical east coast islands offer welcome respite at the end of a rewarding safari. Nestled between Pemba and Mafia is Zanzibar with its eclectic mix of white-sand beaches, warm water, nightlife and a powerful cultural history.

Zanzibar's Spice Route

Stone Town in Zanzibar offers an eclectic mix of culture and history

Highlights of Zanzibar and the Indian Ocean Islands

Zanzibar gets the lion share of tourists who flock to the renowned coastal region

The lion's share of Tanzania's island visitors gravitate towards world-renowned Zanzibar. Zanzibar has an almost overwhelming choice of over 800 tourism establishments to suit every budget and taste. It almost goes without saying, but this is not a place you should come if you don't want to see other tourists. While some parts of Zanzibar are less intensively developed than others, this island is about as far from a pristine wilderness escape as you can get with almost the entire coastline developed, but most especially in the northeast and southeast.

Discover 3 Tanzanian islands

Mnemba is for the more luxury-loving traveller

Zanzibar – an exotic island kingdom of former slave traders and fishermen – has reinvented itself as a tourism hotspot. For those with deep pockets and a healthy budget, nothing beats the exclusive satellite island of Mnemba off the north-eastern tip of Zanzibar. With one exclusive &Beyond lodge, Mnemba is the very pinnacle of tropical island beach-chic luxury. Alternatively, there is a dizzying array of hotels, beach resorts, guesthouses and other accommodation options to choose between on the main island.

See Zanzibar on this romantic adventure

If the thought of hundreds of hotels and thousands of tourists is not your cup of tea, then a trip to neighbouring Pemba is the way to go. Zanzibar's big brother island has remained a thriving fishing community and surprisingly free of tourism development with only a handful of tourist hotels to choose from, a number of which are in the far north of the island where the underwater honeymoon suite of Manta Resort must be the most unique place you could opt to spend a night! But the unpretentious Emerald Bay Resort in the south of the island is the traveller's pick. Delicious seafood meals served on an open-air rooftop terrace and daily boat cruises to lose track of time and spend a week or two recuperating at this affordable island paradise.

Pemba is another popular choice

Further south lies the idyllic island of Mafia. A touch more sophisticated and exclusive than Zanzibar, but without the Mnemba price tag, this is an exciting coconut-covered island to visit. The beaches are superb and its mangroves and marine park ensure that the sea life is bountiful and the underwater safari experience is far superior to Zanzibar or Pemba where a combination of overfishing and widespread dynamite fishing have devastated the reef and fish stocks. More out of the way and a little harder to reach, Mafia is the place for adventurous travellers and diving connoisseurs. The star attraction being the docile and completely harmless whale sharks that frequent the island waters between October and March each year. The best place to base yourself on Mafia would have to be the colourful and good value-for-money Butiama Beach.

Practical information

It is highly recommended to visit Zanzibar or one of Tanzania's other Indian Ocean islands at the end of your safari. After lots of early morning game drives and 'African massages' courtesy of the often-bumpy roads, some quality rest and relaxation on an idyllic white-sand beach lapped by the warm, azure waters of the Indian Ocean is usually just the tonic and will no doubt prove the cherry on the top of an incredible Tanzanian safari experience.

The quickest and safest way to reach any of the country's island destinations is by air. With both regular scheduled flights and private charters flying the aerial island access routes, getting there is simple if a touch costly at times, especially if you want to fly from somewhere outside of the major cities. For those on a tighter budget or who enjoy sea travel, there are a few ferries that sail daily between the mainland ports and islands of Pemba, Zanzibar and Mafia. It is, however, important to assess the sea conditions, seaworthiness of the vessel, and presence of safety equipment before boarding a boat for your island voyage

Back to regions
Tanzania's Top Attractions
Big Five safari holidays in Tanzania

One of the best camps in Tanzania found in central Serengeti is Dunia Camp. What makes it stand out is its remoteness, which is enticing for the Big Five. However, with the freedom the animals have, it's best to be with a guide or tour group.

Seeing the Big Five up close and personal is a once-in-a-lifetime experience, regardless of how many instances you will get to experience it. Luxury safaris in Tanzania are an experience to savour and a number of camps will make for an unforgettable experience. In this case here are nine unforgettable camps to see the Big Five in Tanzania.

Meet the big Five on this wildlife safari

Strategically located in the remote plains of the eastern Serengeti, Namiri Camp is the best place to see the Big Five, especially the cats. In fact, since the camp banned poaching, the big cat numbers have increased, so chances of spotting them will be very good.

Ten percent of the world's population of lion is in Kwihala. This means that when you visit Tanzania, it's not surprising to see prides consisting of more than 20. The best part is that Kwihala is full of life with many other species of animals such as jackal, hyena and wild dog.

Jabali ridge is a goldmine, teeming with wildlife, where predators and prey roam freely in the wild. Action packed days are guaranteed - elephant and rhino are so close, that you'll be sure to feel their power.

Located in northern Serengeti, Kimondo Camp is full of buffalo and rhino. With the help of a guide, adrenaline-filled campers get the unique opportunity for an up-close and personal Big Five experience.

The award-winning Sayari Camp is revered for extraordinary wildlife sightings, including the Big Five. Set on the unspoiled plains of the northern Serengeti, close to the famous Lamai Wedge, Sayari gives you easy access to the Mara River and multiple river crossing points. When looking for a great wildebeest migration meeting with the bonus of a Big Five encounter, Olakira camp in Northern Serengeti is the place to be. With the action-packed scenes so prolific, the experience will stay with you for a lifetime.

Birding safari holiday in Tanzania

The wild expanses of Tanzania offers the ultimate paradise for birding enthusiasts. While there's plenty of birdwatching opportunities in Tanzania, you will get a wonderful experience being guided by professionals. The huge list of bird species to be found here make bird watching safaris in Tanzania the most sought after activity among bird lovers.

Grey-headed silverbill I Credit: Bird Forum

Tanzania is a well-known safari destination for its highest concentrations of game parks and nature reserves. The most visited national reserves that worth visiting for bird watching is the Serengeti National Reserve, Lake Manyara National Park, Ngorongoro Conservation Area and more.

Having said that, few compare to Tarangire National Park, especially during dry season because of the low density of tourists and higher visibility of spotting rare and common bird species.

The Green-winged pytilia I Credit: The Jacana

Tanzania is host to over 900 resident and 200 migrant bird species throughout national park and game reserves, whilst Tarangire National Park boasts 500 species.

Some sightings to look out include (but are not limited to): Grey-headed silverbill, Usambiro barbet, Green-winged pytilia, Kori bustard, Chestnut sparrow, Schalow's turaco, Rosy-breasted longclaw, African crowned eagle Red and yellow barbet and the Martial eagle.

A romantic getaway in Tanzania

Tanzania is quite likely not the first place that springs to mind when you think of romantic holiday destinations, but it's an inspired choice nonetheless, especially if you and your loved one enjoy a touch of adventure and excitement on your romantic travels. Whether you prefer private romance by the beach or indulging in absolute safari luxury and pampering, whatever you are looking for you can likely find it in Tanzania (except maybe a skiing lodge!). With dozens of heavenly beaches, prolific national parks, five-star safari lodges and the most obliging people on earth, Tanzania is the perfect place for a romantic getaway with a difference.

A romantic view of Ngorongoro Crater from &Beyond

Going on a romantic sojourn is all about making special memories together that the two of you can share for years to come. And what could be more special than witnessing a playful herd of elephants cavorting in a muddy waterhole on a hot day, or watching a cheetah stalking across the savannah… The scenery in Tanzania is sublime and the animals abundant. Going on a safari doesn't mean you have to rough it; there are numerous luxury safari camps where you can enjoy a wildlife-watching experiences in the lap of luxury. Tranquil and picturesque lodge settings, high quality service, superb food, spa facilities and a dreamy ambience ensure a romantic escape second to none. Opulent Sasakwa Lodge in the exclusive Singita Grumeti concessions is just such a place. It doesn't come cheap, but – if you can afford it – you will never forget it!

Spend your honeymoon in the serengeti

Arguably the best place for romantic escape is a tropical island where you and your partner can decompress and reconnect on tropical beaches without a care in the world. With its dazzling sun-bleached sands and palm-fringed shores, Zanzibar is the picture of paradise. Coming here for a rest after your safari is the perfect way to unwind and round off your trip to Tanzania. There are numerous fully-inclusive resorts throughout Zanzibar where your every need will be taken care of so that the two of you can enjoy spending quality time together in stunning surroundings. A stroll along the beach at sunset followed by a romantic meal for two is the perfect way to spend an island evening, while a sundowner cruise in a traditional dhow (wooden sailing boat) will allow you to explore some of the smaller isles in the Zanzibar archipelago. If you're looking for a Zanzibar accommodation recommendation, The Palms was recently selected as one of the world's most romantic seaside resorts by Travel & Leisure magazine. So, if it is luxury that you are after, and if money isn't a problem, the six exclusive and spacious 140 square metre villas of The Palms is quite likely just the place for you.

But, for the ultimate romantic island escape, head further south to Mafia Island where stylish and exclusive Pole Pole Bungalows will cater for your every need without breaking the bank.

Walking safari holidays in Tanzania

Walking safaris are a great way to meet the magic of the bush

Walk on the wild side

Who needs the regular safaris that we have become accustomed to when you can have a walking safari? Walking safaris have become a massive hit recently, and this is purely because of the opportunity that tourists have to come closer to the wild and interact more with the animals. For people who choose this option, it is set to become an unforgettable and exhilarating experience walking among big game. There are few destinations which specialize in walking safaris and we will show you where you can get the best out of walking safaris.

Seeing beautiful sights up close

Encountering animals by stepping into their world awakens your senses and the bush somehow feels even more alive and engaging. Following in the tracks of mighty herds, a walking safari is indeed a soulful wildlife encounter. Tanzania National Parks have some incredible wilderness areas for walking safaris. Experiencing a pristine area on foot with no disturbance from safari vehicles, is truly memorable and makes for some great photographic opportunities.

The scenery surrounding this active volcano mountain in Tanzania is breathtaking. Visitors can take a walk from the neighboring campsites and take a walk to the nearby Lake Natron and the expansive Rift Valley. The local community, the Maasai, can also be found in this region grazing their cattle. There are many tour guide companies in this area which organize safari walk expeditions.

If dense forests full of chimpanzees and waterfalls are your idea of a safari walk, the Mahale Mountains in Tanzania is a good bet. This has the largest concentration of chimps in the world which makes the safari even more interesting. It is advisable to visit the Mahale Mountains during the dry season since the times the track can be impassable. There are generous, thatched-style hotels nearby for accommodation.

A photography safari holiday in Tanzania

Ol Doinyo Lengai Volcano has remarkably interesting magma formations

From the Serengeti plains and steep-sided Ngorongoro Crater to the flamingos of Lake Manyara and giant tuskers of Tarangire to idyllic Zanzibar and traditional Pemba to the wild landscapes of Ruaha, Katavi and Stiegler's Gorge in the Selous… the list of iconic Tanzanian photographic destinations is almost endless. Mahale Mountains with its habituated chimpanzees and Lake Tanganyika location is another unique photographic destination, while the many mountains and volcanoes – from world-renowned Kilimanjaro to the restless Ol Doinyo Lengai volcano – ensure that this is a country that has photographers salivating at the mere thought of a visit.

Photography is best done from either a private vehicle or at the very least a vehicle of like-minded individuals who won't move around at critical moments and who are also happy to be out before sunrise and back after dark. Photographic safaris tend to be most successful when you have control over the vehicle and where it goes. A guide who is a photographer him- or herself and who has guided photographers before makes a big difference in terms of positioning the vehicle correctly, getting the light right, and not wanting to head back to the lodge or camp simply because it's breakfast time. If you can afford it, then it is definitely worth booking a private vehicle – for you (and your fellow photographers) – to ensure that there is no conflict of interests and that you are the master of your own photographic destiny. Things are considerably easier outside of the parks and game reserves where dangerous wildlife and safety are less of an issue, allowing one to explore and photograph on foot and at your own pace.

Dust is a big problem on safari, so travelling with multiple camera bodies attached to different lenses is a good idea, as this negates the need to change lenses enabling dust to get inside the camera. Have plenty of extra memory cards, spare batteries and a solar charger is also a great piece of kit to travel with (because its difficult to try and charge batteries halfway up a volcano).

Zebra always photograph so well against the backdrop of the African savannah

The time of year you chose for your photographic safari is probably the biggest and toughest decision you will face. On the one hand you have the superb wildlife viewing and Mara River crossings of the late dry season, but this comes with smoky and dusty conditions as well as dull brown and drab grey backgrounds. During the green season when the rejuvenated bush returns to life, there is a profusion of colour, and the clarity after the rains is second to none, but on the flipside wildlife is dispersed and quality sighting can be harder to come by. This is the time of year to concentrate on landscape and bird photography for sure.

An adventure holiday in Tanzania

Hiking is a drawcard in Tanzania for adventure seekers

It's fair to say that there is adventure to be had in northern Tanzania, specifically on a Serengeti walking safari or trek up Mount Kilimanjaro or Mount Meru, but for genuine off-the-beaten-track adventure nothing comes close to the raw wilderness experiences of the southern safari circuit.

Forget flying, you must drive overland and camp to experience real adventure. Not only do you need a reliable and fully kitted out 4x4 to explore the adventure attractions of the southern safari circuit properly, but you also need plenty of time, 4x4 driving confidence and a healthy dose of adventurous spirit. The key to getting deep into the seldom-explored Selous, Ruaha and Katavi parks is the ability to be self-sufficient. This should also be considered a dry season destination unless you're hell-bent on pushing the adventure limits right off the charts.

Other classic adrenalin-fuelled adventure experiences include: hot air ballooning over the migration in the Serengeti, Big Five walking safaris in one of the country's iconic protected areas, diving with whale sharks off Mafia Island, deep sea fishing in the Pemba Channel, summiting Mount Meru and conquering Kibo peak on Kilimanjaro.

Preparing for Kilimanjaro
From the high snowy peaks of Mount Kilimanjaro and Mount Meru to the palm tree fringed Indian Ocean islands of Zanzibar and Pemba, Tanzania quite simply has it all. Whether it's the mega herds of Selous, Ruaha and Katavi; the habituated chimpanzees of Mahale and Gombe Stream; the wildebeest migration of the Serengeti the giant tuskers of Tarangire; or the whale sharks swimming around Mafia Island, the variety and quality of wildlife safari experiences on offer in Tanzania is unrivalled within a single country. Tanzania is unquestionably a remarkable and incomparable African travel destination.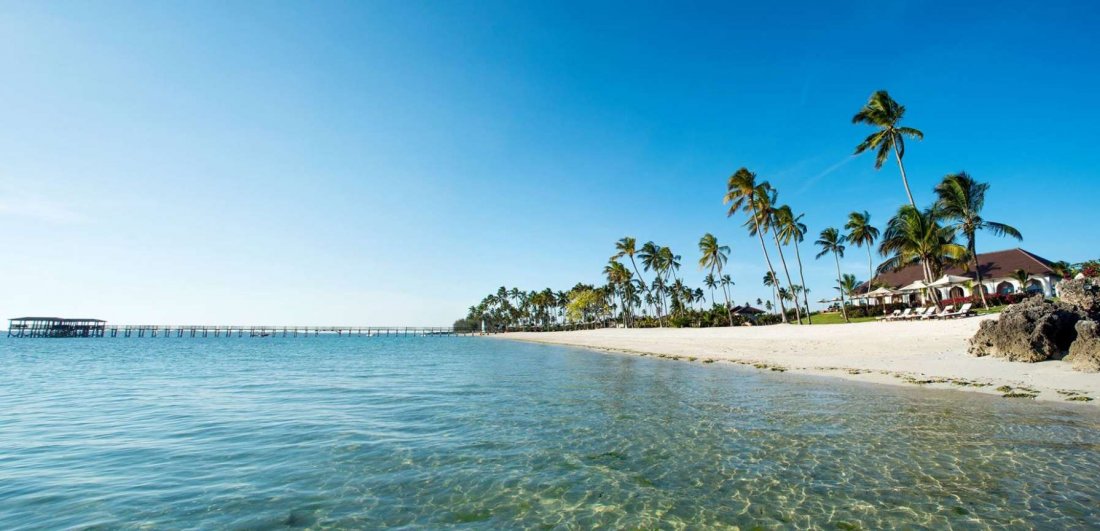 Tanzania is a large African country with over 25% of its land surface area set aside as some form of protected area – national park, game reserve and wildlife management area for the benefit of wildlife and conservation. Safari-goers benefit from this extensive and diverse wildlife estate, which is accessible in its entirety to anyone with a reliable 4x4 vehicle.
There are few – if any – other African safari destinations where nature lovers can experience enormous herds of buffalo and elephant, giant tuskers, the world renowned wildebeest migration, the Eden-like Ngorongoro Crater, habituated chimpanzees, swimming with whale sharks and dolphins, and climbing Africa's highest mountain all within the confines of a single spectacular country.
---
What type of traveller are you?
A Tanzanian holiday as a couple

Couples have a fantastic time in Tanzania Credit: howtobemarried.us

Tanzania offers some amazing, memorable, romantic and unique experiences that you can enjoy as a couple. If you both relish a challenge, climbing Africa's highest mountain could be one of your primary options. Imagine standing alongside one another on the Roof of Africa at 5,985 metres having completing the multi-day climb together: a shared memory of triumph over adversity that will bring the two of you closer together. Whether you want to conquer mountains, appreciate wildlife and scenic landscapes, or kick back and relax on a romantic island beach, travelling as a couple is special because you are sharing the experiences and creating shared memories that you can reminisce about for decades to come.

Couples will quite likely gravitate towards the northern safari circuit for their safari experiences before flying to the islands of the Indian Ocean region to kick back and recharge their batteries together. While on safari in the north, a hot air balloon ride over the migration in the Serengeti is a very special experience to share with your partner.

Many of the safari camps and lodges will gladly organize private dinners for two either at the camp or out in the bush. Take a couples massage at any of the Asilia, &Beyond, Legendary or Singita safari lodges to round off your safari experience together. Once you reach your Spice Island of choice, things only get better with romantic sunset strolls along the beach, tranquil seaside dinners and many R&R hours whiled away on beach loungers or in a hammock reading books and chatting.

Highlights

If climbing Kilimanjaro or Mount Meru isn't your idea of the perfect couples activity and you prefer thrills of a different kind, you could always take a PADI diving course and learn to scuba dive together. This immersive experience is a special one to share with your partner and seeing incredible creatures like whale sharks and turtles swimming alongside both of you will only add to your sense of awe and wonder, as you glide effortlessly beneath the waves. For sedentary couples that aren't looking for shared hardships, kicking back together on a Spice Island beach of your choice – either Mafia, Zanzibar or Pemba – should have the desired relationship effect.

5 incredible things to do in Zanzibar

Whether you are travelling alone, with a partner, or in a small group, it is essential to stay vigilant and attentive to your valuables at all times. Don't flaunt your wealth or tempt fate when out and about, especially in the towns and cities where petty crime and tourist muggings are not uncommon. Always use the hotel safe to lock away all money, passports and valuables; don't leave anything lying around to tempt hotel staff or cleaners. Another good practice when travelling as a couple is to each keep a certified copy of your partner's passport or travel documents, as well as dividing up your cash between the two of you. That way, if one person is mugged, robbed or has his/her pocket picked, at least all is not lost and you will still have the money and supporting documentation needed to remedy the situation.

Solo travelling through Tanzania

A different perspective of Mount Meru

As long as you practice basic safety awareness and avoid lonely stretches of deserted beach, especially at night, Zanzibar and the other Indian Ocean islands of Pemba and Mafia are probably the most alluring prospect for solo travellers going it alone. Exploring the northern safari circuit is safe and with the large number of safari companies and tour operators focusing on this region there is an abundance of information and plenty of opportunity for solo travellers to explore the iconic parks of Serengeti, Ngorongoro Crater, Tarangire, Lake Manyara and Mount Kilimanjaro.

Highlights

Solo travellers can tackle any and all of Tanzania's parks and highlights, although it's generally advantageous to join a group for wildlife safaris and/or treks up Kilimanjaro and Mount Meru. There is a definite safety advantage, but going in a group can also be a significant cost-saver, as well as offering an opportunity to meet other like-minded travellers and make new friends.

Trekking mount kilimanjaro

'Volunteer-ism' (volunteer tourism) and more purposeful travel are becoming increasingly popular with an growing number of volunteer opportunities emerging for solo travellers across Tanzania.

When travelling alone, it's always important to stay vigilant and attentive to your valuables. Don't flaunt your wealth or tempt fate. Solo travel in Tanzania is safe provided you follow a few simple rules… First, safety in numbers at night: make sure to team up after sundown. Joining small group tours (maximum six people) with a good guide not only provides a temporary safety benefit, but also helps to keep costs more manageable when compared to exclusive tours and private guides. Moving around in groups at night is especially important for solo female travellers, as is dressing somewhat modestly to avoid drawing unwanted attention to yourself. Second, it is safest to travel by taxi. In major cities like Arusha or Stone Town, ask the hotel or guesthouse staff to recommend a reputable taxi that will get you safely to your destination. Having a local Tanzanian staff member help to negotiate the price before getting in the vehicle is also highly recommended. Third, while it is important to always be polite, don't leave anything to misinterpretation. Tanzania is known for its jovial attitudes and unrelenting street vendors, but if someone pushes things too far or makes you feel uncomfortable, then it's okay to be direct and tell them to leave you alone, especially if you're on your own.

A family holiday in Tanzania

Experiencing Tanzania with children is a magical experience I Credit: Travel Without Tears

Family travel – especially big or extended families travelling together – can prove a bit chaotic and more costly, but there is something so special about experiencing and sharing superb safari experiences with your children and partner. Most safari camps and lodges also have one or two family suites where adjoining rooms or tents allow mom and dad their own space, while still ensuring the kids are close by and safe, because you can move between the family tents or rooms at night without having to step outside and worry about wild animals. From a family perspective, it is also worth emphasising that Tanzania is a largely safe country where violent crime against foreigners is incredibly rare.

Tanzania's northern safari circuit is prime wildlife-viewing country. Although not renowned for its affordability, kids will love seeing the well-habituated animals, as well as the vibrant Maasai culture. A good selection of child-friendly lodges, camps, hotels and restaurants ensures that there is plenty of choice. The southern safari circuit is definitely a more adventurous option and should probably be restricted to families with older children who will better appreciate longer and wilder safaris in open-top game viewing vehicles. Should you take your family on a Great Migration safari?

The mellow beaches of Zanzibar and the other Spice Islands are reason enough to recommend the Indian Ocean islands as ideally suited to families and children. Many Zanzibari hotels also have swimming pools (ideal for swimming with kids in a controlled environment when seas are rough or while the tide is out) as well as spacious hotel grounds where kids can run wild and burn off energy in a safe place. Because many families visit Zanzibar, there is also a wide choice of child-friendly cuisine on almost every menu.

Highlights

Families travelling with small kids and tighter budgets might find it easier to base themselves in major centres like Arusha (where there are shops, medical facilities and other support services) and do shorter excursions from that base. An example of an easy and rewarding daytrip would be to nearby Arusha National Park where there is plenty of wildlife, but for the full experience a trip further afield to Ngorongoro Crater, Tarangire or Lake Manyara would be more impressive.

Ngorongoro Crater with its nearby family-friendly accommodation is especially well-suited to families and young children, while the extremely relaxed and abundant wildlife should keep even the most restless children engaged and excited. Furthermore, children under eighteen also get sizeable discounts on daily park fees and permits to climb Kilimanjaro.

It would be unfair – almost cruel – to bring your children to Tanzania and not finish off with at least some time to explore the Spice Islands and enjoy the surrounding warm-water and white-sand beaches. Zanzibar Island has an abundance of lovely east-coast beaches with soft sand and calm seas, while most resorts also have a swimming pool. For families with more of a sense of adventure, or looking to get away from the crowds, Mafia Island with its little beaches, exciting dhow rides and top quality snorkelling is the place to head with your children.

Practical information

Tanzania may initially seem daunting for travel with children: prices for accommodation and park entry fees can add up, road travel distances can be long, and vehicle rental is rather costly. But for families with a sense of adventure, it's a destination brimming with wonderful attractions, including wildlife, beaches, friendly people and great weather. Having a real sense of adventure (and humour) is invaluable as you explore the wilds of Tanzania, but proper planning for family travel is equally important. The following are some pre-trip considerations and travel tips to help you get started:

The cooler, dry season (June through September) is best for family travel. Travel during the dry season months tends to be easier and transportation more dependable. Mosquitoes also tend to be less common, although malaria prophylaxis should still be taken. Malarone and Paediatric Malarone for the little ones is definitely the anti-malarial drug of choice with high efficacy and the fewest side effects.

Aside from malaria prophylaxis, it is recommended that you consult your local travel clinic, doctor or paediatrician for vaccination recommendations, remembering that a Yellow Fever vaccination is required for every visitor over the age of two years.

It is important to avoid getting bitten by mosquitoes, so travelling with your own mosquito nets and ensuring that your children always sleep under them is first prize. Dressing in long-sleeved shirts, long trousers and socks, as well as religiously using mosquito repellent at dawn and dusk further reduces the likelihood of getting malaria.

At beaches, keep in mind the risks of hookworm infestation in populated areas, and watch out for spiny sea urchins when wading or snorkelling in the shallows. Take care about bilharzia infection in stagnant water and lakes in populated areas. A fully stocked child-oriented first aid kit is a travel imperative.

The equatorial sun in Africa can be lethal, so make sure to always wear hats, use plenty of sunscreen and drink lots of water to avoid sunburn and dehydration.

Street food isn't generally suitable for children, and 'healthy kid-friendly snacks' are a challenge to find on the road, so stock up on fresh and dried fruit as well as fruit juices whenever you are passing through a big town or major city.

For those travelling with infants, baby-changing facilities are almost non-existent except for possibly in the upmarket hotels, so bring along a small blanket or your own portable change mat to spread out whenever necessary.

Many wildlife lodges and safari camps have age restrictions on accommodating children, so make sure to confirm the child policy for all the places you intend to stay. Conversely, some lodges and safari camps actively court families.

Most hotels, lodges and national parks offer discounted entry and accommodation rates for children – and infants (under two years) are usually free of charge – but you will need to specifically request these discounts, especially when booking through tour operators.

Aside from the discounts related to the age of your children, many lodges, camps, hotels and guesthouses will offer seasonal discounts, or will be willing to adjust their advertised rates outside of the peak-season months, so make sure to always ask and negotiate.

Tanzania's parks are completely unfenced, as are the lodges and camps located inside these wildlife areas, so carefully supervising your children at all times is critical. Wild animals frequently enter public areas and children should not be allowed to walk alone around camp, even for short distances. Exercise particular vigilance after dark.

For any family travelling in Tanzania, it is the allure of the country's productive wildlife areas and high quality safari experiences that are the main attraction with legendary parks like Serengeti, Tarangire and Ngorongoro Crater boasting high quality animal sightings and often at extremely close range. The fact that all parks offer substantially reduced children's entry fees is a bonus. If staying inside the park, it's a good idea to opt for a lodge or safari camp with a pool where the kids can expend their energy between game drives. Alternatively, base yourself outside the park at a hotel with a pool and large grounds for kids to run around, and only venture into the park on well-timed animal-spotting forays, while also enjoying cultural interactions and other activities (such as night drives) that take place outside of the national parks.
What type of traveller are you?
Group travel in Tanzania

See the Serengeti according to your budget

The opportunity for group travel to Tanzania makes it easier on your budget and can be a more cost-effective way of experiencing the lore of Africa. This can easily be arranged by Discover Africa and depends largely on availability of the lodges and reserves. Travelling in a group is also dependant on set itineraries, so if this is something that you may want to consider, then get in touch with us to find out more.

Try our African Safari Cost Calculator

Affordable holiday in Tanzania

Ndutu Safari Lodge

Stay at Ndutu Safari Lodge

If it is value-for-money that you're after, then it would be best to travel outside of the peak season (June to September) because rates tend to be inflated due to the excess demand. Many of the lodges and camps – both on the safari circuits and scattered across the Spice Islands – offer generous off-season discounts with the 'emerald season' (AKA the rainy season) typically being characterised by negotiable accommodation rates and special packages where you might pay for three nights and stay for five (i.e. two nights 'free') or something similar.

Try our African Safari Cost Calculator

Luxury safari holiday in Tanzania

Luxury African travel poses the opportunity of experiencing incredible places I Credit: Classic Portfolio

The discerning safari connoisseur has a number of top quality offerings to consider in Tanzania. It is highly regarded as one of the finest safari destinations in Africa. Luxurious safari offerings in private concessions are plentiful and the options on both the southern fringe of Maswa Game Reserve are excellent. Exclusive concessions of the renowned high-end safari brands offer elite safari camps that cater to the most sophisticated tastes. From opulent accommodation, to hilltop views over the western corridor of the Serengeti, and luxury-under-canvas atmosphere of other lodges. Experiencing the sight of thousands of wildebeest in the great migration will sweeten and already stupendous experience. As a country of natural splendour, astounding wildlife and geological wonders - including the world's highest free-standing mountain; Tanzania is a mecca for the discerning safari-goer.

Try our African Safari Cost Calculator
Travelling to Tanzania

Most visitors enter Tanzania by air, although the options for airlines are extremely limited. Dar es Salaam and Kilimanjaro international airports are serviced by Kenya Airways from Nairobi, Air Rwanda from Kigali, Ethiopian Airlines from Addis Ababa, and South African Airways from Johannesburg, as well as KLM from Amsterdam, Turkish Airlines from Istanbul, and Qatar Airways from Doha. There are no direct flights from Tanzania – or anywhere else in East Africa – to America, although this is set to change with the recent approval granted for direct flights from Nairobi and Kigali to the US east coast. The most reliable East African budget airline for regional flights connecting Dar es Salaam, Kilimanjaro and Mwanza to neighbouring countries is a Tanzanian airline called Precision Airways.

Precision Air is the most reliable option for air travel in Tanzania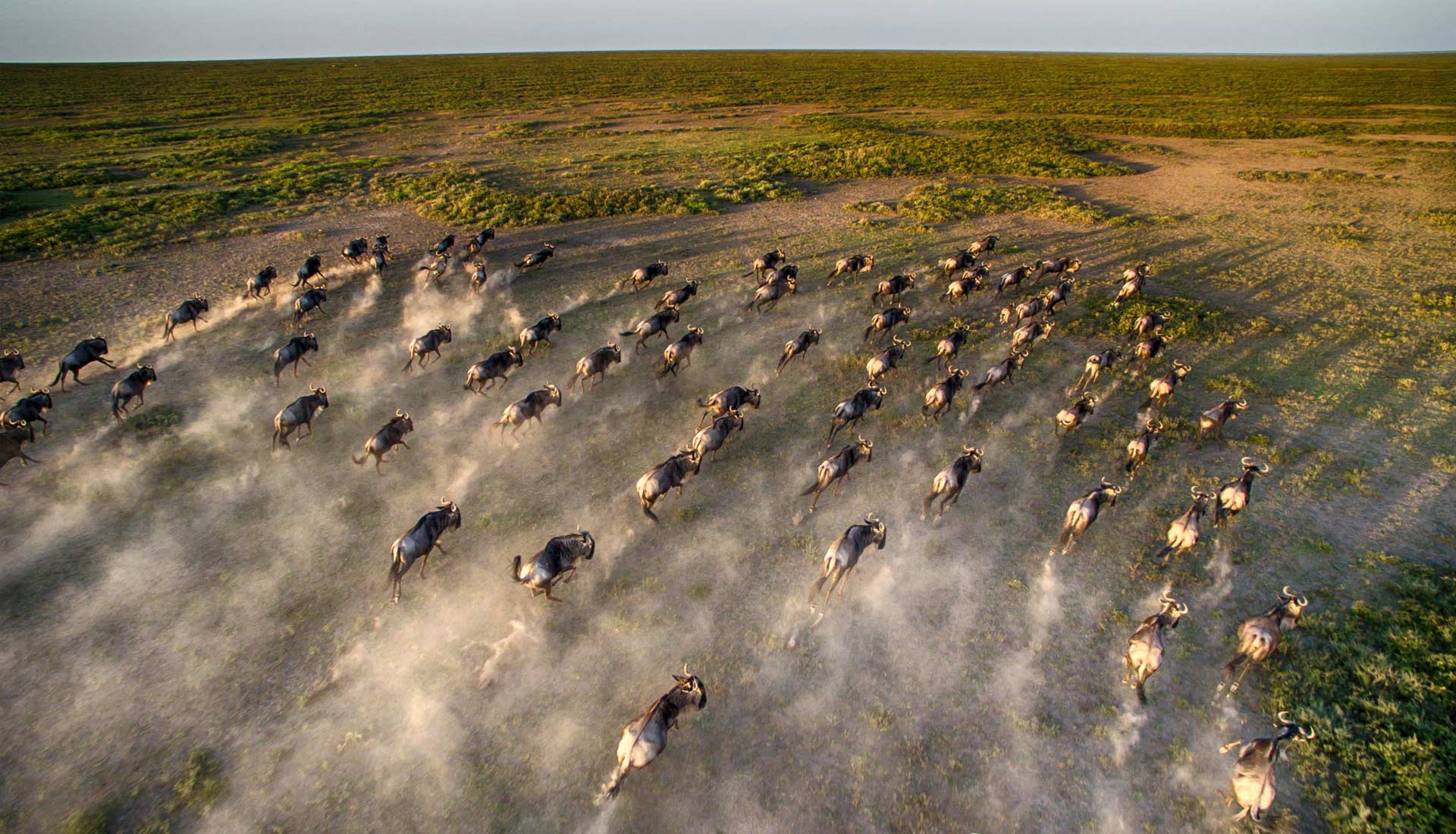 Travel Advice
Tanzania vs Kenya

The Great Wildebeest Migration occurs in both Tanzania and Kenya

In general, Kenya is the better know safari destination, but consequently most of its prime parks and reserves are considerably busier than across the border in Tanzania. With a safari tourism model that tends to prioritise quantity over quality, Kenya has followed the route of low value and high impact tourism.

Try this Kenya & Tanzania combo

By contrast, Tanzania subscribes more to the model of high value and low impact tourism, which means you might have to pay somewhat more to gain access to explore many of its protected areas and prime attractions, but the upside is that very few of these areas will feel completely overrun by tourists. In fact, many of Tanzania's protected areas feel downright wild and remote. Tanzania would get our vote over Kenya if one is looking for a wild, relatively quieter safari experience, although both have their attractions in equal (but different) measures.

See all Kenya safaris

Tanzania vs Rwanda

The mountain gorilla of Rwanda are incredible creatures

See the gorillas and the Great migration

Rwanda with just four protected areas in this heavily populated little country is quite simply outgunned by Tanzania on almost every safari metric, except primates. With semi-habituated chimpanzees in the beautiful Nyungwe Forest and habituated mountain gorillas and golden monkeys in Volcanoes National Park, Rwanda trumps Tanzania when it comes to primate safaris. That said, with a single savannah park in Akagera, the overall safari experience and diversity of safari offerings cannot hope to compete with Tanzania's range and variety of attractions. My advice would be to go to Tanzania for your safari experience with a one-week add on to neighbouring Rwanda to get your fix of gorillas and other primates. A day perusing the sobering genocide museum and some of the monuments and churches in and around Kigali is a must-do activity for your 'add-on' itinerary to Rwanda.

See all Rwanda safaris
---