Mozambique safaris, tours & holiday packages
Beaches, beaches and more beaches
Custom Mozambique
Describe your dream trip
We'll source the best value
Book when you're ready
Blessed with several of Africa's most spectacular beaches, Mozambique is also notable for its fantastic marine life and time-warped old Portuguese towns
Tourism to Mozambique is pretty much all about the beaches. Or rather, the beaches, the fishing, and the wonderful snorkelling and diving available on the seemingly endless string of offshore reefs and islands.
Mozambique is emphatically a maritime country, with an astonishing 2,500 kilometres of Indian Ocean frontage separating South Africa from Tanzania, and the vast majority of visitors never stray further inland than they need to. Despite this, the country is divided into two distinct parts, the north and the south, linked by a solitary bridge across the Zambezi River and offering very different experiences to visitors.
Popular Mozambique safaris
These popular itineraries can be customised to match your budget and travel dates
Philip Briggs says
"I'm not much of a beach person, so in a sense Mozambique's biggest asset is wasted on me, though the Quirimbas and Bazaruto are truly gorgeous, and the snorkelling is fantastic all along the coast. I'm a big fan of Mozambique's towns, several of which possess an organic urban character rare elsewhere in southern Africa. And I'd rate Niassa Game Reserve very highly for anybody seeking an off-the-beaten-track safari experience."
More on Mozambique holidays
Introduction
In many respects, the south of Mozambique is the archetypal tropical beach nirvana, and also boasts world-class snorkelling, diving, and game fishing.
Tourism to Mozambique, consisting largely of South African fishermen, is concentrated here in a string of developed beach resorts. These include Tofo, Inhambane, Vilankulo and the offshore islands of Bazaruto National Park. The beaches of the north are no less beautiful, and the offshore reefs and islands are just as bountiful. However, amenities here tend to be more scattered. With the exception of the mainland resort of Pemba and the honeymoon-friendly Quirimbas Islands, they are generally also more rudimentary.
Mozambique has some of the most absorbing towns in southern Africa. These range from the modern capital Maputo, with its palm-lined avenidas and Art Deco architecture, to historic backwaters such as Ilha de Moçambique (capital of Portuguese East Africa for almost four centuries) and Ibo. For wildlife enthusiasts, highlights include the renascent Gorongosa National Park inland of Beira and the vast Niassa Game Reserve bordering Tanzania.
Know before you go
​Don't drink the tap water.
Get the correct vaccinations (Typhoid, Hepatitis A, Tetanus and Meningitis).
Be prepared to deal with law enforcement who may stop you often to ask for your passport or inspect your vehicle.
Carry your passport with you all the time - smile and be polite when being addressed by police officers.
Keep up to date with current affairs in Mozambique before you leave home.
You need vehicle registration papers if driving yourself, including your driver's license and passport.
Keep South African Rands, US Dollars or Meticais (Mozambique's currency) on you if you are self-driving, for toll roads after crossing the border.
Mozambique is a malari area - although the correct precautions should eliminate any real threat.
It's illegal to drive on the beaches.
Take good insect repellants with.
Don't drive in areas where there are no demarcated roads - there are still a lot of landmines in Mozambique.
Take extra fruit juice with (sodas are available at all shops and markets but fruit juice is scarce).
The fresh market in Inhambane is great.
You must try the fresh Portuguese bread.
It's illegal to leave the country with more than 500Mts.
If you want to take Meticais instead of SA Rand, it is advised that you exchange it before entering Mozambique because you will get a preferential rate.
You are permitted to take meat across the border (ensure it's vacuum packed and you have a purchase slip with you).
Portuguese is the main language spoken, despite the 60 or so regional languages.
Mozambique is about three times the size of Great Britian and is divided into two topographical regions by the Zambezi River.
Gorongosa National Park and Niassa Reserve offer some of Southern Africa's most remote and exclusive crowd-free game viewing.
When to go
​The best time to visit Mozambique is between May and October during the dry (slightly cooler) season. Although, January is hot and wet, prices are a lot more affordable.
Warm water temperatures make diving and snorkelling good year-round.
What to pack
​Special third-party insurance for Mozambique (compulsory) - this covers for self-drive visitors.
Vehicle's registration papers, including trailers.
Vehicle insurance letter from your insurer confirming that your vehicle is insured.
Enough toilet paper for the entire trip.
Good sunblock, sunhat and polarised glasses.
Good first-aid kit )although most hotels and resorts should have adequate supplies.
Pack light clothing suitable for hot weather.
Warm jumper.
Small torch with batteries.
Mozambique uses 220/230V, 50Hz AC, and sockets take mostly Type M (3 prong large round) and some Type C (2 prong narrow round). Most hotel rooms have sockets for 110V electric razors. It is best to bring an adapter/convertor combination.
Weather and Climate
​Mozambique's climate is warm and tropical, with an average temperature of around 28 degrees Celcius (82 degrees Fahrenheit). The weather along the coastline is generally warm and sunny throughout the year. The rainy season in sumer occurs from October to April and can get very hot and humid. June to October is the dry, cooler season.
Safari / Holiday Styles
Beach holiday with plenty of sun, sand and relaxation.
Where to stay
Mozambique offers a vast array of accommodation options to suit most budgets. It is the archetypal tropical beach nirvana with world-class diving and snorkelling.
Our Recommended Accommodation
Mozambique Map
Mozambique's location on Google Maps

Frequently Asked Questions about Mozambique
What vaccinations should I get?
This is all dependant on the countries that you will be visitng and due to the status of certain vaccinations changing at times, please consult our experts before getting vaccines. go there.
Is it okay to drink the water?
In some parts of Southern Africa it is safe to drink the tap water, however it is highly recommended to stick to bottled water (mostly supplied) during your trip as even drinkable African water is completely different in taste and… go there.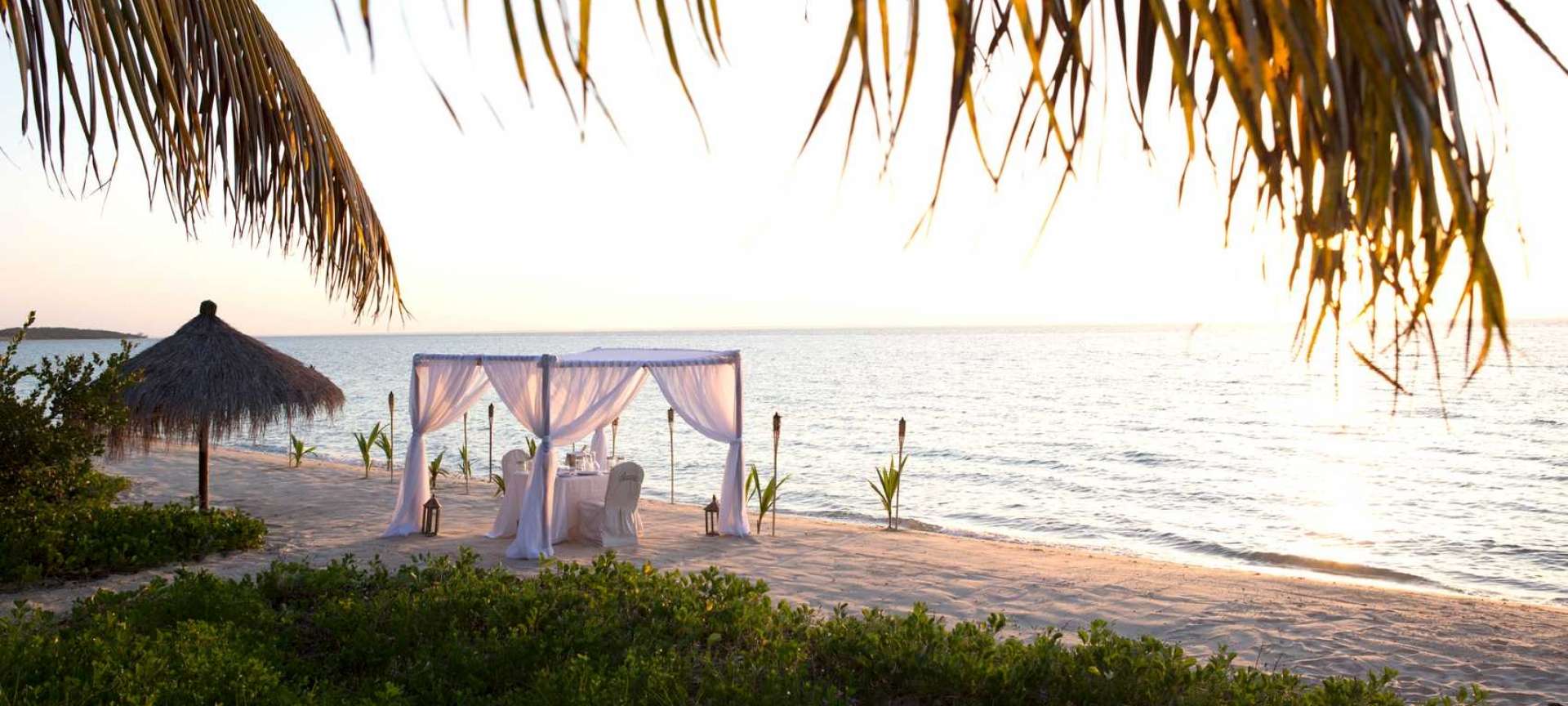 Reviews on our Mozambique safaris
Since the beginning, agents and staff of Discover Africa already work in a professional way for me to plan the trip. Their quick responses to my questions help us a lot before departing from our place to the Africa continent. When we were…
YT
from Hong Kong
This was my first safari. I didn't expect to be so pampered. Everything was first class. We had everything provided for us before even asking. We had a dedicated team at our service. Megan was on call whenever we needed something and she…
Saada
from Nigeria
Tanya was an absolute delight to deal with. From the first phone call she was extremely polite, professional and very eager to facilitate my requests regarding our safari. Our 3 nights at the V & A Hotel were fabulous and Motswari Game…
Debbie
from Australia
Perfectly tailor-made tours that take all your wishes and requests into consideration. All my expectations were beyond fulfilled.
Henrik Wetterstrand
from Sweden
Living afar and trusting in an organisation with whom you have no previous knowledge can lead to feeling of mistrust and wondering whether what we have paid for actually exists. A little more proactive communication would have eased those…
Tony Russell
I just wanted to thank Discover Africa and Karl Svendsen - the safari was great - we saw many more animals than expected including cheetah, leopard, many lions and even a three-day old elephant calf. Additionally, we had our own hippo…
Margaret Dean